Temporary Traffic Calming Cable Protectors
Two problems, one solution…
This unique range of TTCs are two products in one, a traffic speed controller and heavy duty cable protector covering power or cable bundles up to 56 x 27mm.
Yellow hazard stripes on both sides of the profile are clearly visible, giving early warning to fork lift truck and lorry drivers of the danger of speed in confined areas.
Rugged construction combined with an inherent flexibility means that these strong profiles withstand the passage of most loaded vehicles whilst keeping the cables safe and secure.
These very special products can easily be relaid in another location as required.
Lay flat, no drilling or bolting, ready to use in minutes.
Product data sheet:

Fire tested to BS 476 Part 7 Class 3
Halogen free in the event of fire
Low smoke, non toxic and low fume emission levels
Tested for non conductivity to BS903-C5, 500V
Eye catching warning stripes running along each side of the profile for maximum visibility
UV stabilised for extended outdoor life
All dimensions are nominal and subject to manufacturing tolerances

0800 035 2842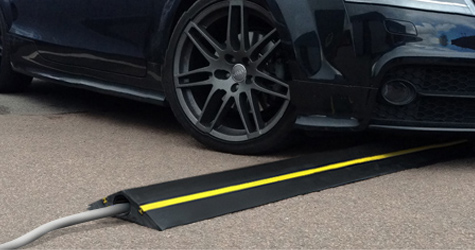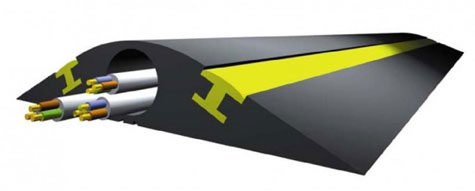 Type TTC/1

Available in 4.5m lengths

Type TTC/2

Available in 4.5m lengths

Type TTC/3

Available in 1.5m lengths

Type TTC/4

Available in 1.5m lengths
Interested?
If you would like more information on Temporary Traffic Calming Cable Protectors or would like to order any of the above products please contact us on 0800 035 2842 within the UK or +44 (0)1604 212 973 outside the UK. Alternatively you can email us at: [email protected]