CableSafe Flexible Cable Protectors
CableSafe from Vulcascot, the economical solution for your cable protection requirements in the workplace or home.
CableSafe ORIGINAL – Hard wearing, easy to fit, flexible rubber cable protectors for use indoors or out, available in black, grey or yellow. Easy to fit, push in the cables through the pre-slit base and lay in position. Available in 3M and 9M lengths.
CableSafe LITE – Light and medium weight PVC cable protectors for indoor use, available in black or grey. Available in 3M and 9M Lengths.
Dimensions specified are nominal and subject to manufacturing tolerances. Products supplied may differ from the images shown due to our continual program of product development.
Product data sheet:


0800 035 2842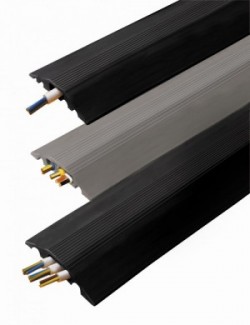 Type RO6

Type RO7

Type RO7B
CableSafe Lite
Type CL01

Lightweight

Type CL02

Medium Weight

Type CL03

Medium Weight
Interested?
If you would like more information on CableSafe Flexible Cable Protectors or would like to order any of the above products please contact us on 0800 035 2842 within the UK or +44 (0)1604 212 973 outside the UK. Alternatively you can email us at: [email protected]