Heavy Duty Cable Protectors
A range of interlocking cable protectors with highly visible flip top lids.
These heavy duty cable protectors interlink to form a continuous ramped cable protector. The highly visible yellow hinged lid allows cables to be inserted after the ramps are in position and each section has fixing holes provided for optional permanent fixing.

0800 035 2842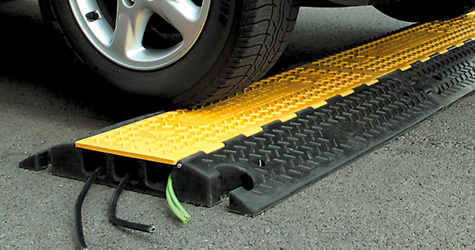 HDVCP/2

2 Channels for pedestrian use

A safe method of securing cables on pavements and walkways
Two large compartments to secure power or cable bundles
Supplied in 1000mm lengths
Ideal for use where cables need to be temporarily covered
Useful safety product for pavement or walkway maintenance
Not suitable for use in conjunction with any form of vehicle traffic

HDVCP/3

3 Channels for road and event use

A safe method of securing cables across roads and at events
Speed calmer and cable protector in one unit
Suitable for traffic flow at 5-10 mph
Three large compartments to accommodate larger cables and pipes
Supplied in 900mm lengths
Tested for individual axle weight loading of 6000KG
Not suitable for use with fork lift trucks
Interested?
If you would like more information on Heavy Duty Cable Protectors or would like to order any of the above products please contact us on 0800 035 2842 within the UK or +44 (0)1604 212 973 outside the UK. Alternatively you can email us at: sales@vulcascot.co.uk